The lifespan of dental veneers depends on whether you have porcelain or composite veneers, and how well you care for them. Porcelain laminate veneers can last from 10 to 12 years. Composite resin veneers need to be replaced sooner, since they last for around 4 to 8 years.
What is the difference between composite and porcelain veneers?
Composite veneers are made from a synthetic mix of resin (plastic) and glass, which is applied to the tooth one layer at a time. Porcelain laminate veneers are thin "shells" of porcelain that are bonded to the front of the tooth. A closer look at composite veneers… Benefits:
Not as expensive as porcelain veneers
Chips and cracks can be repaired
Less enamel is removed from the natural teeth
Potential drawbacks:
Less durability and stains show up more easily
The lifespan is shorter than porcelain veneers
Composite veneers don't look as natural as porcelain, appearing bulkier
A closer look at porcelain veneers… Benefits:
More durable and resists stains better than composite veneers
Extremely natural aesthetics
Longer lifespan
Potential drawbacks:
Damaged veneers can't be repaired, they must be replaced
Treatment takes longer to complete (normally 3 days)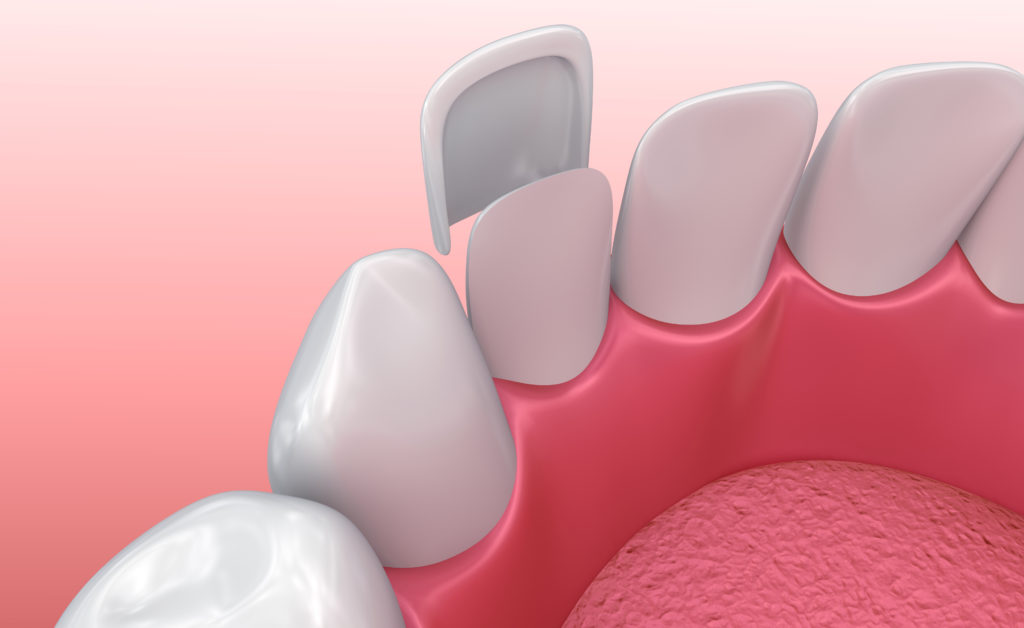 Will I Need To Replace My Veneers?
Yes, most patients replace their veneers at some stage over their lifetime, as veneers last up to 12 years. When this time comes, your dentist will polish and redo your veneers.
A tiny amount of enamel is removed with the old veneers. If your natural teeth no longer contain enough enamel to sustain a new veneer, a crown may be a suitable replacement.
Why do veneers need to be replaced?
Dental veneers may need to be replaced if:
The gums gradually pull back, exposing the margin between the root of the tooth and veneer. There may be a stain or fine brown line on this margin.
Veneers may chip or break over time as the material (porcelain or composite) weakens with the pressure of daily use.
Veneers break from changes to the bite caused by tooth loss, erosion or decay.
Why do composite veneers need to be replaced sooner?
Composite resin is less durable than porcelain; causing the veneers to chip and break more easily than porcelain veneers. The composite material also tends to stain more easily. This means that composite veneers generally have a shorter lifespan (around eight years) than porcelain veneers.
Are veneers the best option?
Dental veneers are suitable for people who want to hide minor dental imperfections and smile with confidence. The main purpose is to improve the cosmetic appearance of teeth. Dental veneers look and feel like natural teeth, so they're difficult to detect. This is a suitable option for people with healthy gums and teeth. Popular reasons for getting veneers:
Broken, chipped or cracked teeth
Discoloured or stained teeth
Gaps between teeth
Obvious fillings
Crooked, oddly shaped or eroded teeth
Teeth that stand out because they're too small or uneven
A small amount of crowding in the mouth
Please note, your dentist will speak to you about alternative treatments if you have active gum disease or badly damaged teeth (veneers aren't suitable in such cases).
Where should I get my veneers?
Any reputable dentist can install your veneers – but if you have the option – seek out our dentist who lets you "test drive" your new smile before committing to a treatment plan. This stops you from wasting money on results you don't completely love!